Register for Our Online Auctions.
Scroll Down To Pay

The Pop Culture Antique Museum. " Where Your Childhood Memories Come Alive " is a fundraising endeavor by Puffy Paws Kitty Haven.
The Pop Culture Antique Museum showcases the odd collection of items we have for sale in the Museum and in the online stores.
It is a paradise for freaks, geeks, gamers and people who enjoy nostalgic items.
Our TV Studio is set up to pay tribute to the Horror Movie Hosts of years gone by.
Elvira, Mistress Of The Dark, Gregory The Grave Walker, Bob Wilkins, to name a few.
All items sold in the Museum , in the online stores and our charity auctions directly benefit Puffy Paws Kitty Haven.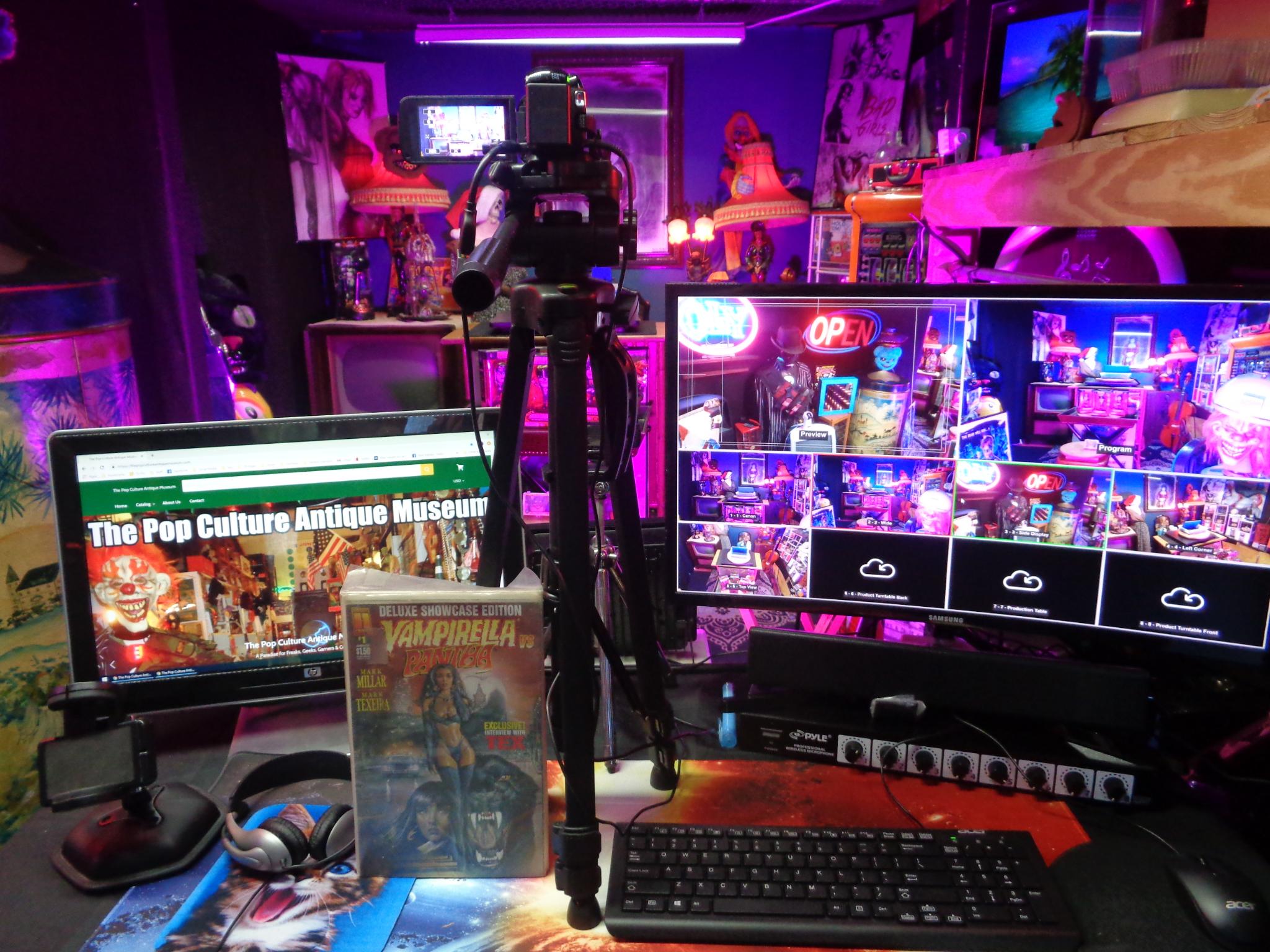 Register for Our Online Auctions.

Puffy Paws Kitty Haven will be hosting a live online auction on Facebook Live on The Pop Culture Antique Museum facebook page.
Coming Soon - TBA

You must be resister to bid.

Please make sure that you fill out all of the boxes,
Please put your address into the "Message" box.
If you have a sales exemption certificate and would like us to have a copy on file, please mention this in the "Message" box as well, and we will contact you via email to request a copy of it.
If you are missing any information that we require, then you will not be eligible to bid in our auctions until we have received the correct information.
Thank you!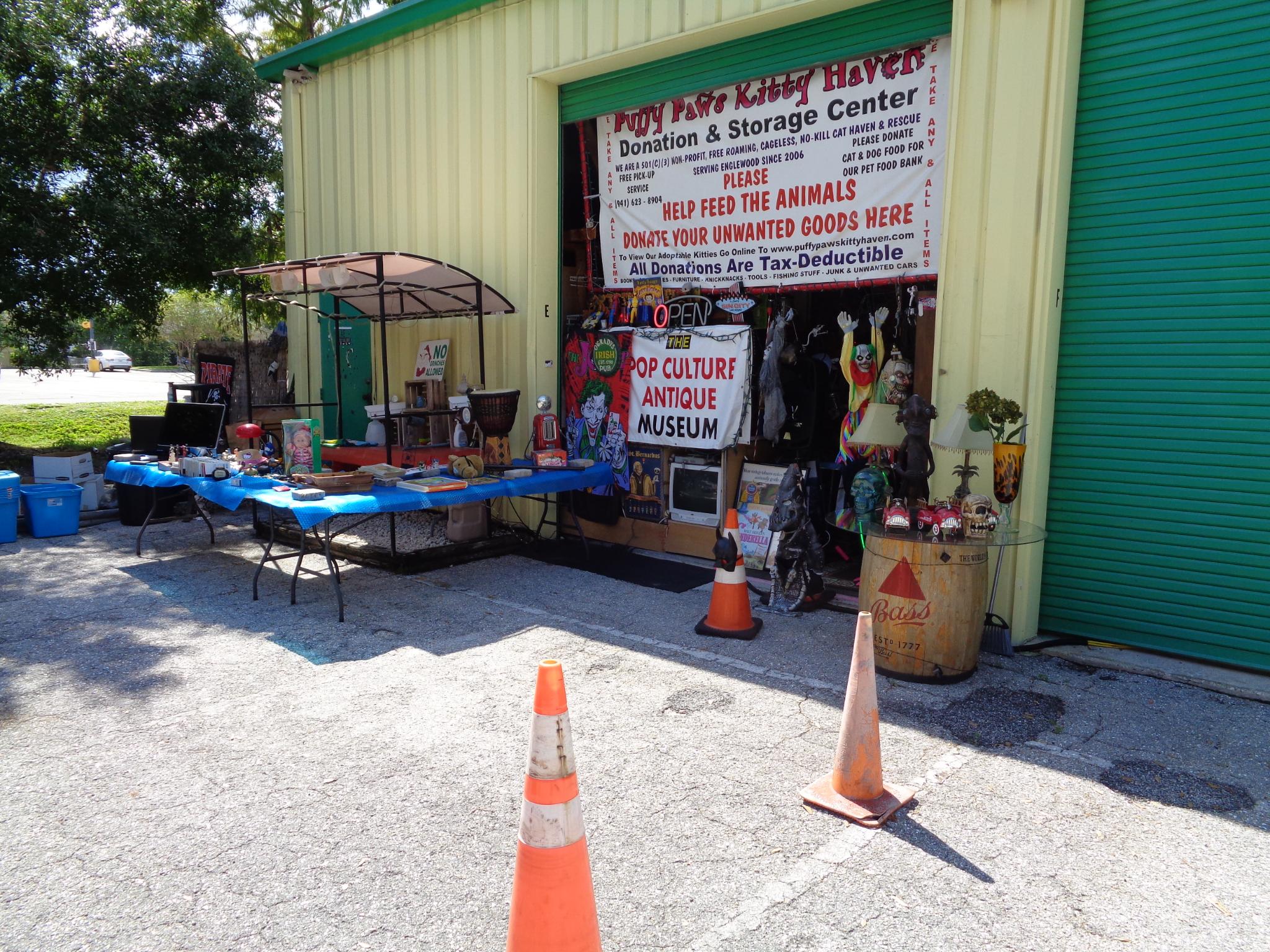 Facebook Live Auction Rules and Guidelines:

You should find answers to all of your questions here!
You must be registered before the auction starts!
If you have registered with us before, then you do not need to register again!

You only need to register once.

The Pop Culture Antique Museum is located in Englewood, Florida, and all proceeds go directly to supporting the cats at Puffy Paws Kitty Haven.

Please make sure that you register with us at least 24 hour before the auction starts.

We will then confirm that you are ready to bid with us !
Please note that our video feed will usually be at least 15 seconds behind what is actually happening.

In order to keep things moving along, please follow the bids in the chat, and bid often. If you don't want to bid any further, please type "out" so that we can move along.
Thank you !

We are located in Englewood, FL, and you may pick up any items that you have purchased locally without any additional fee.

How To Find The Pop Culture Antique Museum
We are located off San Casa Drive at 8315 Woodgate Ct, Unit E.
We are right inside of the Englewood Walmart Parking lot.

When you are in the Englewood Walmart's parking lot and are facing the far right hand entrance, which is the Grocery entrance and next to the Liquor Store, look right and you will a set of storage units. We are the last unit on the left - Unit E.


If you are not local, then we will ship your items to you via USPS, and charge according to their rates.

TERMS OF EVERY AUCTION/SALE
All items are sold "as is"

All items have a $5 minimum starting bid, and all further bids must be at least $2.50 higher than the last, unless the auctioneer says otherwise.

For online payments, we accept PayPal, or credit cards via PayPal, including Visa, MasterCard, American Express, Discover, JCB, Diner's Club, and EnRoute. You do not need a PayPal account to pay via PayPal.

For in-person payments, we accept cash, Visa, MasterCard, American Express, and Discover.

We do not charge any sort of buyers premium.
We charge 7% sales tax to any buyers in FL, unless we have a copy of your sales tax exemption on file.

When you win an item, an invoice will be sent to your email address within 24 hours of the auction ending.

To pay by phone, please call 941-623-8904. If we do not pick up, please do NOT leave a message, for your own security.
We do not store your cred card information.

If you would like your items to be shipped to you, please notify us immediately after the auction is over. The cost of shipping will be added to your invoice.

If you are local and would like to pick up your items, please call us at 941-623-8904 to arrange a good time to retrieve them.


Please ensure that you have paid for your items by the Tuesday after the auction has been completed. If we do not receive payment, the items will go back out for sale, and you will no longer qualify to participate in our auctions.

All final decisions are made by the auctioneer in charge.


Thank you for shopping with us!
Rick Kingston, Executive Director
Puffy Paws Kitty Haven DBA The Pop Culture Antique Museum

PAY YOUR AUCTION INVOICE

Please click the blue button to pay for your auction items on your invoice.
Please put your total price in the Price Per Item box.
THANK YOU